Oszuści powiązani z usługami SMS Premium zatrzymani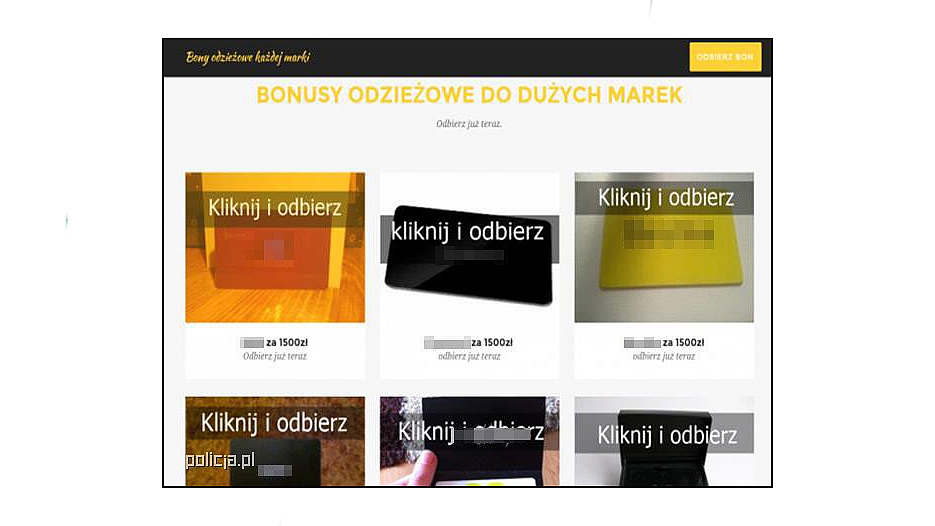 Policjanci Wydziału do walki z Cyberprzestępczością KWP w Krakowie przy współpracy z Prokuraturą Rejonową w Zakopanem, rozpracowali grupę przestępczą, która od 2014 roku do chwili obecnej odpowiedzialna była za rejestrację setek stron internetowych z konkursami/loteriami oferującymi wygranie określonego towaru.
Wygrane to np. bony pieniężne o wartości od 50 zł do 1500 zł na wszelkiego rodzaju towary (bony odzieżowe, bony paliwowe, bony wycieczkowe, bony na doładowanie telefonu, bony na sprzęt RTV). Wygranie towaru możliwe było po wysłaniu tzw. wiadomości sms typu premium o podwyższonej płatności, której koszt to 25 zł netto (30,75 zł brutto). Przestępcy doprowadzili co najmniej 160 tys. osób do niekorzystnego rozporządzenia mieniem poprzez wysyłanie masowych wiadomości sms o oszukańczej treści.
W wyniku przeprowadzonych czynności operacyjnych i procesowych, ustalono, że sprawcy powiązani są m.in. z serwisami, na których oferowali możliwość wygrania bonów odzieżowych i paliwowych. Procedura wygrania bonów wymagała wysłania kilku wiadomości sms typu premium na wskazany numer oraz o wskazanej treści. Następnie użytkownicy byli informowani o konieczności wypełnienia formularza, który na zakończenie komunikował, iż aby wygrać bon należy wpłacić kwotę 50 zł na wskazany rachunek bankowy za pośrednictwem jednego z wielu serwisów obsługujących płatności online. Jednakże po wysłaniu smsa premium i/lub dokonaniu przelewu, odbiorcy nigdy nie otrzymywali zamówionej usługi czy towaru.
Oszuści, aby uwiarygodnić swoje strony internetowe z konkursami/loteriami, zatrudniali młode osoby, nie znające się na przepisach prawa i oferując im łatwy zarobek dużych pieniędzy, namawiali do tworzenia fikcyjnych profili na znanym portalu społecznościowym. Ich zadaniem było wystawiane nieprawdziwych postów i komentarzy, informujących o rzekomym "wygraniu bonu" z zaproszeniem do wzięcia udziału w oferowanych konkursach/loteriach.
Jak ustalono, oszuści zanim uruchomili dany serwis internetowy z bonami przygotowywali się do tego przez wiele miesięcy, czekając na odpowiedni okres uruchomienia danej loterii, np. przed i w trakcie trwania sezonu wakacyjnego oferowali możliwość wygrania wakacji, zaś na początku roku szkolnego oferowali możliwość wygrania plecaków. Jako, że sprawcy to osoby w wieku 18-26 lat, swoje konkursy dostosowywali głównie do potrzeb młodych ludzi. Do reklamy swoich usług, wykorzystywali znany portal społecznościowy, na którym kupowali od innych osób fanpage mające po kilka lub kilkaset tysięcy "polubień" (tzw. lajków) a następnie zmieniali informacje przypisane do fanpage pod konkretny, działający w danym czasie konkurs z ofertą bonów. W ten sposób uwiarygodniali swoje konkursy, gdyż potencjalni odbiorcy widząc "tysiące polubień" (lajków) oraz pozytywne komentarze, uznawali że konkurs jest prawdziwy i mogą rzeczywiście coś wygrać, nawet jeśli wiąże się to z koniecznością wysłania wiadomości sms o podwyższonej kwocie.
Jak ustalono, oszuści nie tylko nie dostarczali oferowanych bonów, ale i nie informowali potencjalnych odbiorców swoich konkursów/loterii co do rzeczywistej stałej opłaty za jednego sms-a premium, to jest zamiast rzeczywistej kwoty rzędu 30,75 złotych brutto informowali, że koszt jednego sms-a to 4,25 złotych brutto. Jak ustalono, sprawcy z tytułu rozliczenia środków za usługi premium sms, tylko od jednego podmiotu świadczącego dostęp do tego rodzaju usług, otrzymali kwotę ponad 1.300.000 zł prowizji. Przestępcy powiązani są ze znanym serwisem internetowym - forum o zarabianiu, na którym prowadzili promocję swoich usług i namawiali inne osoby do reklamy ich usług.
Szereg przestępstw dokonanych w latach 2014-2017, to także oszustwa zrealizowane za pośrednictwem serwisu, który wprowadzał w błąd co do możliwości dostępu do informacji z popularnego portalu społecznościowego i oferował rzekomy dostęp do baz poszczególnych profilów użytkowników tego portalu w celu "dowiedzenia się, kto i kiedy podgląda dany profil". Wymieniona usługa była oszustwem, gdyż ten znany portal społecznościowy nie umożliwia tego typu usług.
Od połowy 2016 r. do chwili obecnej, sprawcy zmodyfikowali swój oszukańczy sposób działania i przekwalifikowali się na tzw. usługi "smsapi", które umożliwiają masową wysyłkę wiadomości sms, o dowolnej treści, do dowolnej ilości odbiorców. Oszukańcza metoda polega na wysłaniu wiadomości sms do setki tysięcy odbiorców, w których treści informuje się, że na numerze odbiorców została włączona płatna usługa sms premium i aby ją wyłączyć trzeba wysłać smsa o wskazanej treści i na podany numer. W efekcie, wysłanie zwrotnej wiadomości sms powoduje włączenie usługi sms premium a nie jej wyłączenie, a sprawcy od firmy zarządzającej numerem o podwyższonej płatności otrzymują prowizję od każdego wysłanego smsa, której koszt to 25 zł netto (30,75 zł brutto). Przykładowa treść wiadomości sms: "Platna usluga…..zostala wlaczona. Koszt 4,25 zl/dzien. Aby wyłączyć usługę wyslij smsa o treści … na numer…"
W materiałach sprawy znajdują się informacje o przynajmniej trzech firmach z usługami "smsapi", w których podejrzani wykupili usługi i łamiąc regulaminy w/w firm, wysyłali wiadomości sms do tysięcy odbiorców, usiłując doprowadzić bliżej nieokreślone osoby w liczbie co najmniej 160 tys. do niekorzystnego rozporządzenia mieniem.
Na podstawie zgromadzonych materiałów w prowadzonym śledztwie oraz uzyskanych informacji operacyjnych, w dniu 6 marca br., policjanci Wydziału do walki z Cyberprzestępczością KWP w Krakowie przy współpracy z policjantami Komendy Powiatowej Policji w Zakopanem oraz innych jednostek Policji w kraju (w sumie w czynnościach brało udział ponad 50 funkcjonariuszy z całej Polski), dokonali realizacji postanowień prokuratorskich w dziewięciu miejscach w Polsce, m.in. w Białym Dunajcu, w Toruniu, w Gdańsku oraz w Warszawie, przeprowadzając szereg przeszukań i doprowadzając do zatrzymania ośmiu osób, w tym jednej, poszukiwanej listem gończym do odbycia 1,5 roku kary pozbawienia wolności. Ponadto, w trakcie przeszukania pomieszczenia gospodarczego należącego do jednego z podejrzanych, ujawniono właz do podziemia a w ukrytym pomieszczeniu znaleziono kilkaset krzaków konopi indyjskich, o wadze 91,3 kilograma. W wyniku dalszych czynności zabezpieczono ponad 300 krzaków, specjalistyczny sprzęt do uprawy w/w roślin oraz ustalono osobę podejrzaną o uprawę konopi indyjskich (marihuany) wbrew przepisom Ustawy o przeciwdziałaniu narkomani. Podczas oględzin miejsca ujawnienia wymienionej plantacji, ujawniono także nielegalne przyłącze energii elektrycznej.
We wtorek 7 marca br. z uwagi na zabezpieczony materiał dowodowy, Prokurator prowadzący śledztwo, czterem osobom zatrzymanym w sprawie, przedstawił łącznie 35 zarzutów o popełnienie przestępstwa z art. 286 §1 kk (oszustwo), art. 294 §1 kk (mienie znacznej wartości), art. 53-54 ustawy o przeciwdziałaniu narkomanii (uprawa, wytwarzanie, wprowadzanie środków odurzających do obrotu) oraz art. 115 prawa autorskiego (przywłaszczenie cudzego utworu). W środę 8 marca br. Sąd Rejonowy w Zakopanem, z uwagi na uzasadnioną obawę nakłaniania innych osób do składania fałszywych zeznań, ukrywanie się przed wymiarem sprawiedliwości oraz realnie grożącą im odpowiedzialność karną, zastosował do w/w podejrzanych, środek zapobiegawczy w postaci tymczasowego aresztowania na okres trzechmiesięcy. Wszystkim podejrzanym grozi kara pozbawienia wolności, której górna granica wynosi co najmniej 8 lat.
KWP w Krakowie / ig
Źródło: policja.pl